Description
Buy EVGA GeForce GTX 1080 Ti FTW3 Hydro Copper Gaming 11GB GDDR5X Video Card
Firstly, Buy EVGA GeForce GTX 1080 Ti FTW3 from us at affordable prices.
Product Key Features
        Chipset Manufacturer: NVIDIA
APIs:        DirectX 12, DirectX 9.0, DirectX 10, DirectX 9.0b, OpenGL 4.5, DirectX 11, DirectX 9.0a, DirectX 11.2, Vulkan, DirectX 11.1, DirectX 10.1, CUDA, DirectX 9.0c, DirectX 9.1, DirectX 9.08

Memory Type:      GDDR5X

Chipset/GPU Model: NVIDIA GeForce GTX 1080 Ti

Power Cable Requirement: 8-Pin + 8-Pin PCI-E

Memory Size: 11 GB

Features: RGB Lighting, VR Ready, Multiple Monitor Support

Connectors: DisplayPort, Mini DisplayPort, DVI, DVI-D, HDMI

Compatible Slot: PCI Express 3.0 x16

Cooling Component Included: Water Cooler
Components
1 X EVGA GeForce RTX 3090 FTW3 ULTRA GAMING 24GB
Shipping
Shipped in 1-3 business days
Safe professional packaging
30 days  Warranty
Worldwide Delivery ( UPS – DHL )
FINAL SALES,  NO REFUNDS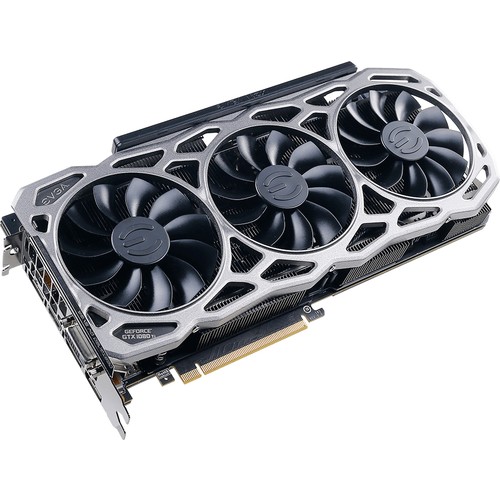 Real Base Clock:   1569 MHz/Real Boost Clock: 1683 MHz; Memory Detail: 11264MB GDDR5X.Requirements:Windows 10 32/64bit, Windows 8 32/64bit, Windows 7 32/64bit
GPU/Memory/PWM Thermal Status Indicator RGB LEDs. Resolution and refresh- maximum monitors supported: 4. Maximum refresh rate: 240Hz , maximum digital : 7680 x 4320
New vented heatsink fin design and pin fins for optimized airflow
Safety fuse to protect components from damage due to improper installation or other component failures
OVERVIEW: EVGA GeForce GTX 1080 Ti FTW3
Also, GeForce GTX 1080TI is the most advanced gaming GPU ever created, powered by the new NVIDIA Pascal architecture. Again, The GeForce GTX 1080TI comes with ultra-fast FinFET and high-bandwidth GDDR5X technologies, plus support for DirectX 12 features to deliver the fastest, smoothest, most power-efficient gaming experiences.
Get the power to drive multiple ultra-high-resolution monitors with the lowest latency and plug-and-play compatibility with leading VR headsets. Plus, bring more realism to every game with NVIDIA GameWorks technologies that deliver a true cinematic experience, smoother gameplay, and amazing new image-capture to share your game.
Then we brought it to the next level by adding the EVGA Waterblock. It is a full-cover block with nickel-plated copper, and a 6 port connection hub on the top providing a wide array of possible connection options.
So, this  combined with iCX's improved monitoring from a custom PCB with 9 additional thermal sensors, you can see how cool ALL your components are running with EVGA Precision XOC.
The EVGA Hydro Copper water block will keep your card quieter than ever and with far better thermals than the best heatsink and fan(s) could provide. Buy EVGA GeForce GTX 1080 Ti FTW3 Hydro Copper Gaming 11GB
To top it off, the card no longer powers any fans, and that extra available power may help your cards overclock one step further. However, the iCX Hydro Copper line provides the best "Peace of Mind Gaming" solution available.